Wheel alignment is a proper adjustment of vehicle's suspension system that connects a vehicle and the tires.
Some of the angles that affect Wheel Alignment are Toe in, Toe Out, Caster, Camber, King Pin, etc.
Proper alignment is necessary for perfect vehicle control, uniform tyre wear, mileage and overall safety of the vehicle & driver.
Wheel Alignment should be done at every 5,000 kms.
What issues are caused by improper wheel alignment?
Visually anyone can see if a vehicle has lost its alignment – Vehicle will not move straight on a straight road.
It will drift to either left or right depending which side has lost its alignment, causing uneven tire wear on that side.
How is wheel alignment measured?
Wheel Alignment is measured by a high precision Wheel Alignment Machine which accurately measures the deviations in the angles if any.
The sensors are attached on the wheels with the help of wheel clamps which measure the deviations in the angles with respect the camera placed in front of the vehicle with help of latest technologies like Bluetooth, Electronic Wireless, CCD etc.
The machines are preloaded with vehicle data, which measures the deviation of that model of the vehicle with respect to its manufacturers settings.
After the deviation in angles is noted in the vehicle, technicians can go and manually make the correct adjustment by standing under the vehicle (Either in an inground Pit, or on the ground if the vehicle is lifted by a lift.


SARV offers a range of Wheel Alignment Machines for Passenger Cars, Commercial Vehicles, Tractors and Trailers etc.
For Passenger Cars Sarv Offers 3D and CCD Machines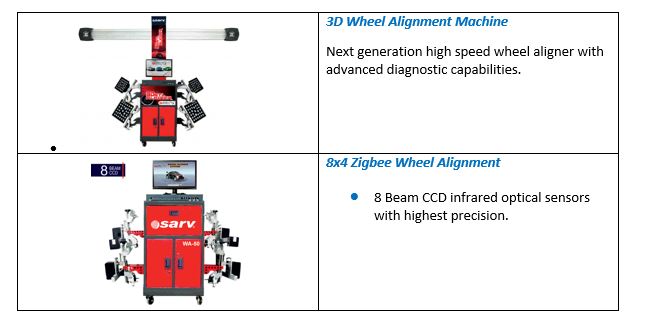 *Refer Website www.garagequipments.com for more information on these machines & other models.
For Commercial Vehicles , Sarv offers Bluetooth & Electronic Machines from Space- Italy and Haweka-Germany
*Refer Website www.garagequipments.com for more information on these machines & other models.
Accessories Manufactured by Sarv
Sarv has a huge experience in Training, Installation and demonstrating Wheel Alignment machines for Both PC and CVs at various workshops Pan India.
For more enquiries about Wheel Alignment Machines or other Sarv Accessories and Automotive Service Equipment, Kindly write to us at info@garageequipments.com or visit our website www.garageequipments.com